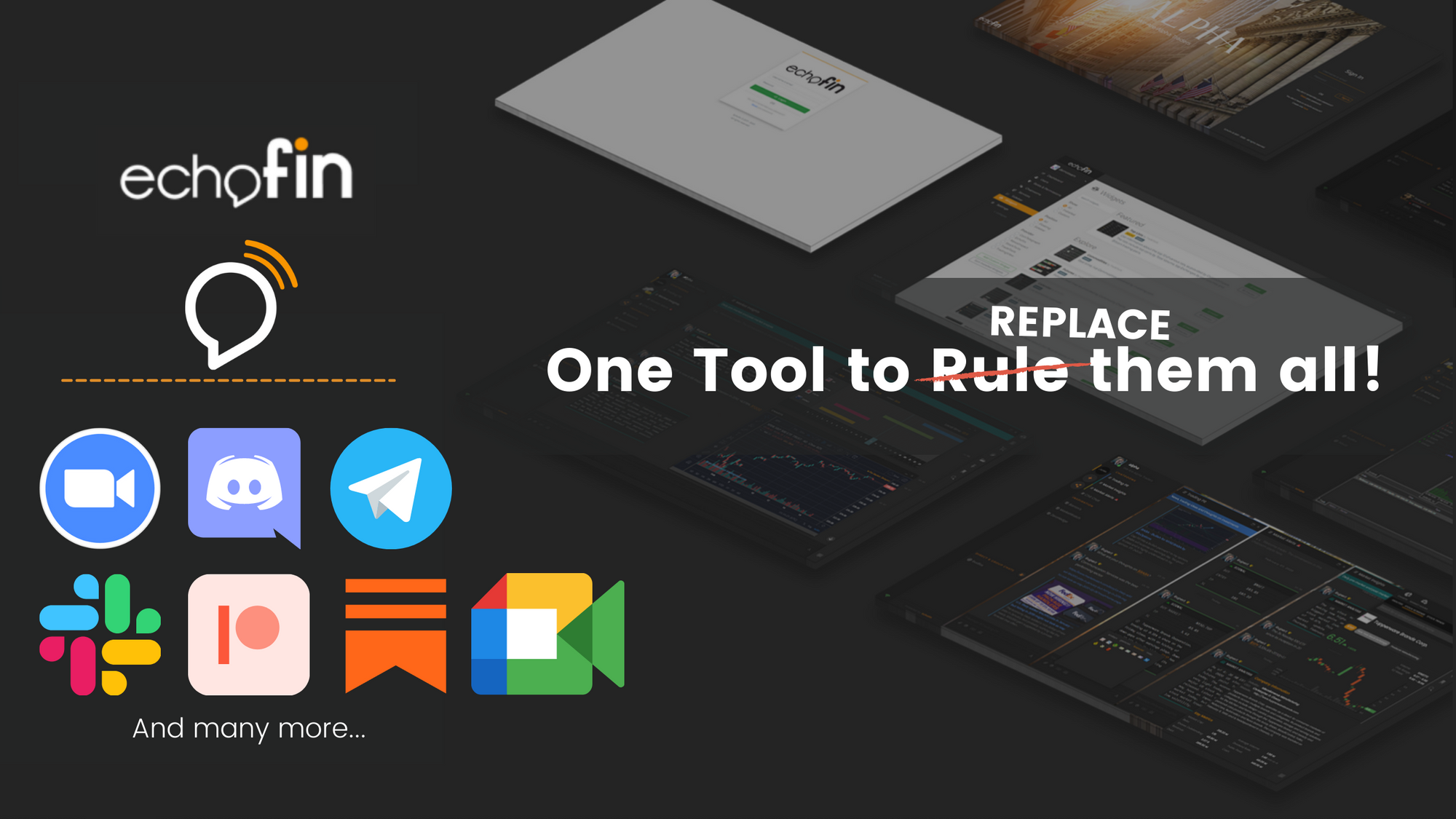 The global pandemic has triggered a boom in online communication solutions. Stock values of platform providers such as Zoom and Slack skyrocketed. As more and more bosses recognized the benefits of home office work world-over, more and more people came to terms with the new realities of online communication.
Having been around for a few years, we are in the perfect position to exploit this newfound need for meaningful and productive online communication. From the perspective of traders, our platform is the best alternative for most of these new online communication "rock stars" and more.
As a trader, you have some rather special needs you can only meet by combining several of the online communication solutions that developers created for fundamentally different purposes.
With Echofin, you can easily replace a bunch of these tools and secure better value than a whole suite of such communication solutions can give you. We have purpose-built this platform for trading.

---
Echofin is an Alternative to Discord
Communication and collaboration are Echofin's strong suit. It allows traders to setup multiple chat rooms and manage complex communities easily and transparently.
Sharing your TradingView charts, market analysis, and trading signals is but the tip of the iceberg. Our platform allows you to create a virtual trading floor experience, sharing real-time, low-latency video, and interacting with your viewers as you go about your trading.
Looking for an Alternative to Telegram? Echofin is the Answer.
You can share files, send messages, photos, and videos with Echofin. As a trader, you can set up communities in a few clicks and reach potentially unlimited audiences. If you are a profitable trader, you can also monetize the advice, tips, and trading signals you share through the platform.
The platform encrypts messages by default, but it also supports secret messages, adding another layer to your privacy/security.
Echofin is a More than Viable Alternative to Slack
According to its slogan, Slack is where work happens. Echofin is where trading work happens. If you are looking for effective and simple channel-based communication, Echofin is the answer. As a virtual trading floor, our platform connects all the software and tools traders may need. It facilitates the free yet controlled flow of information to enable beginners to do their best trading.
It also gives experienced traders a way to freely share and monetize their knowledge and expertise.

Looking to Replace Zoom with a Trading-focused Alternative?
Share your trading screen with your followers/team members and stream low-latency HD video. Host HD meetings and define the permissions of every participant individually. Echofin gives you full control over your online communication, creating a perfect environment for webinars and other educational activities.
Financial educators thrive here, setting up and running communities and creating trading academies from scratch, with monetization included. Echofin meetings and educational events are accessible, easy to join, and secure.
An Alternative to Cisco Webex? You Bet!
Due to its advanced communication suite and third-party integrations, Echofin creates trading experiences that are much better than in-person interactions. Through the screen-sharing, chat, trading signal delivery, and secret messaging features, our platform trumps real-life interactions in many ways.
It puts a staggering array of relevant information at the fingertips of students and educators alike. In addition to what Echofin delivers communication-wise, it integrates a wide range of third-party widgets and apps that can offer more thorough insights, lending decision-making an entirely new dimension.

Try Echofin Instead of Google Meet. You Will Love it!
Frictionless video conferencing is one of Echofin's "superpowers." Its power to build and maintain communities around a complex undertaking such as online trading is unparalleled.
Our platform is consistent in the quality of the services it delivers. It is also user-friendly and accessible. Messaging is encrypted from one end to the other, and the secret messages lend additional depth to on-platform security. Indeed, through Echofin, you can share passwords and other similarly sensitive information without worrying that it will fall into the wrong hands.
Unlike some of the tools it can fully replace, Echofin does not push a corporate agenda branching into other online activities, nor does it sport a spotty record privacy-wise. Echofin's communication ecosystem is an open one. If you are looking for a solution that allows you to mold it to suit your needs in every way, it has your back.

Our platform works with Zapier, allowing high-level automation and integrations. It also allows educators, experienced traders, and everyone else to provide various trading services and monetize them directly without needing technical skills.
The advanced Customer Relations Management module of the platform supports integrations such as Stripe. It also allows you to set up custom, branded checkout pages and work out custom billing plans. If you are a trader looking to share your skills or learn from those more experienced, you do not need a bunch of tools and cumbersome software designed for a different purpose.
---
Do you want to join our Demo Team and see first handed the whole experience?